Advanced Thyroid Blood Test
AS SEEN IN
Advanced Thyroid Blood Test
Welzo's Advanced Thyroid Blood Test checks your body's thyroid production as well as antibodies, hormones and important vitamins and minerals. This test can be used to optimise your thyroid health and determine if treatment is necessary.
What does it test for?
Thyroid stimulating hormone (TSH)
Free Tri-iodothyronine (T3)
TPOAb
Vitamin D
Active Folate
Free Thyroxine (FT4)
TGAb
Ferritin
Vitamin B12
CRP HS
AS SEEN IN
Don't just take our word for it
Assistant Athletic Trainer
Jordan Waits reviewed welzo.com
"I simply ordered the test online, received it in the mail a few days later, and took the test in the comfort of my own home using a quick finger prick. The instructions were clear and easy to follow, and the process itself was quick and painless."
Health & LIfe Coach
Roxy Richards reviewed welzo.com
"I followed the recommendations provided by Welzo, and I have to say, I feel so much healthier now. I have a lot more energy, and I just feel better overall. It's amazing how much of a difference small changes can make"
Digital Marketing Consultant
Niall Bert reviewed welzo.com
"When I received my results, I was very interested to see some hormonal imbalances. I didn't even know that was a possibility! But the Welzo report provided me with clear and detailed information about what was going on inside my body, and what I needed to do to address the imbalances."
Thyroxine (T4) is the hormone that has several important functions in the body, including speeding up the rate of metabolism, growth and energy levels. We test the thyroxine within the body to get an indicator of how well the thyroid is functioning. There are different treatments depending on if the thyroid is under or over the normal levels.
Free tri-iodothyronine (T3)
FT3 or free tri-iodothyronine is one of the two critical hormones produced by the thyroid gland. Its deficiency/excess is responsible for most of the thyroid related health issues because of its stronger impact even though it constitutes the lesser fraction as compared to the other hormone, FT4. Menopause blood test detects the amount of FT3 which is not attached to a protein and help to understand thyroid functioning.
Thyroid peroxidase antibodies (TPOAb)
Thyroid peroxidase (TPOAb) is an enzyme that converts T4 in to the active T3. The TPO test analyses if antibodies are attacking the thyroid gland and impairing its function.
Vitamin D is a vitamin that's essential for many functions in your body, including bone and muscle health. Vitamin D can be found in food, supplements, and fortified foods. If you don't get enough vitamin D, you may develop osteoporosis or muscle weakness. An average vitamin D level is 20 to 50 ng/mL. If you have a low vitamin D level, we may recommend that you take a vitamin D supplement or eat foods fortified with vitamin D.
Folate is the naturally occurring form of the vitamin B9. It acts as a coenzyme in the metabolism of amino acids. Folate is important in the synthesis of purines and pyrimidines as well as during the first trimester of a pregnancy


Thyroid stimulating hormone (TSH)
TSH (Thyroid Stimulating Hormone) or thyrotropin is secreted by the pituitary gland, located in the head, and can help identify cases of hypothyroidism and hyperthyroidism. Both the excess and under-secretion of TSH can lead to weight loss, anxiety, palpitations, irregular sleep patterns and irregular menstrual cycles. Hypothyroidism is majorly associated with overlapping symptoms such as menopause.
Thyroglobulin antibodies (TgAb)
The thyroglobulin protein (TgAb) is produced in the thyroid gland. It makes hormones T3 and T4 which aid in the control of metabolism, growth and mood wings. The test is done to check the level of antibodies that the body has made in response to the compound thyroglobulin.
Ferritin is the protein that stores iron in the body. Iron is needed to provide muscles with oxygen so that they receive the energy they need to function properly. Ferritin will release the iron when needed and is kept within the body's cells, most commonly found in the liver. We check ferritin levels to ensure that there is proper storage of iron in the body's cells otherwise the iron will be depleted quickly.
Vitamin B12 is a water-soluble vitamin that can be naturally present in foods or as supplements. The b12 vitamin aids in the production of red blood cells that carry oxygen around the body. It also plays a role in the development and function of the nervous system.
C-Reactive Protein (CRP) HS
The C-Reactive Protein (CRP) is a protein produced in the liver. The CRP protein is found within the blood and will increase in numbers when there is an injury or illness. The High Sensitivity CRP test aims to detect any low-level inflammation which may damage blood vessels, leading to a heart attack or stroke.
Symptoms of Thyroid Issues
Tiredness
Moodswings
Hyperactivity
Anxiety, nervousness, irritability
Persistent thirst
Weight gain
Depression
Muscle aches
Dry skin and hair
Sensitivity to cold
Additional Insight from Dr Sameer Nakedar, MBBS, MRCGP, PGCert
"Some vitamins and minerals support your thyroid function; therefore, getting optimal vitamins helps. However, abnormal levels of specific vitamins can also cause various symptoms, sometimes similar to thyroid disorders. Understanding these vitamin and mineral levels can help identify or exclude a cause for these symptoms.
The advanced check also includes inflammatory markers. In some situations, thyroid disorders are caused by autoimmune disorders, meaning the body's natural defence system (the immune system) is not functioning adequately. In some cases, thyroid disease is a result of autoimmune problems."
of the UK's population has Hypothyroidism
According to the National Institute for Health Care Excellence (NICE). Hypothyroidism was also found to be present in 5% of those over 60 years old. The findings suggest that women are 5 to 10 times more likely to be affected than men.
of the population in the UK have clinically detectable goitres or thyroid nodules
According to the NICE report on the risks associated with thyroid malfunction. Most of the people who have a non-malignant enlarged thyroid gland with a normal thyroid function will need no treatment.
Experts Opinion
"A basic thyroid function test can help you understand if your thyroid function is normal, overactive, or underactive. The advanced check also includes inflammatory markers. In some situations, thyroid disorders are caused by autoimmune disorders, meaning the body's natural defence system (the immune system) is not functioning adequately. In some cases, thyroid disease is a result of autoimmune problems."
Dr Sameer Nakedar
MBBS, MRCGP, PGCert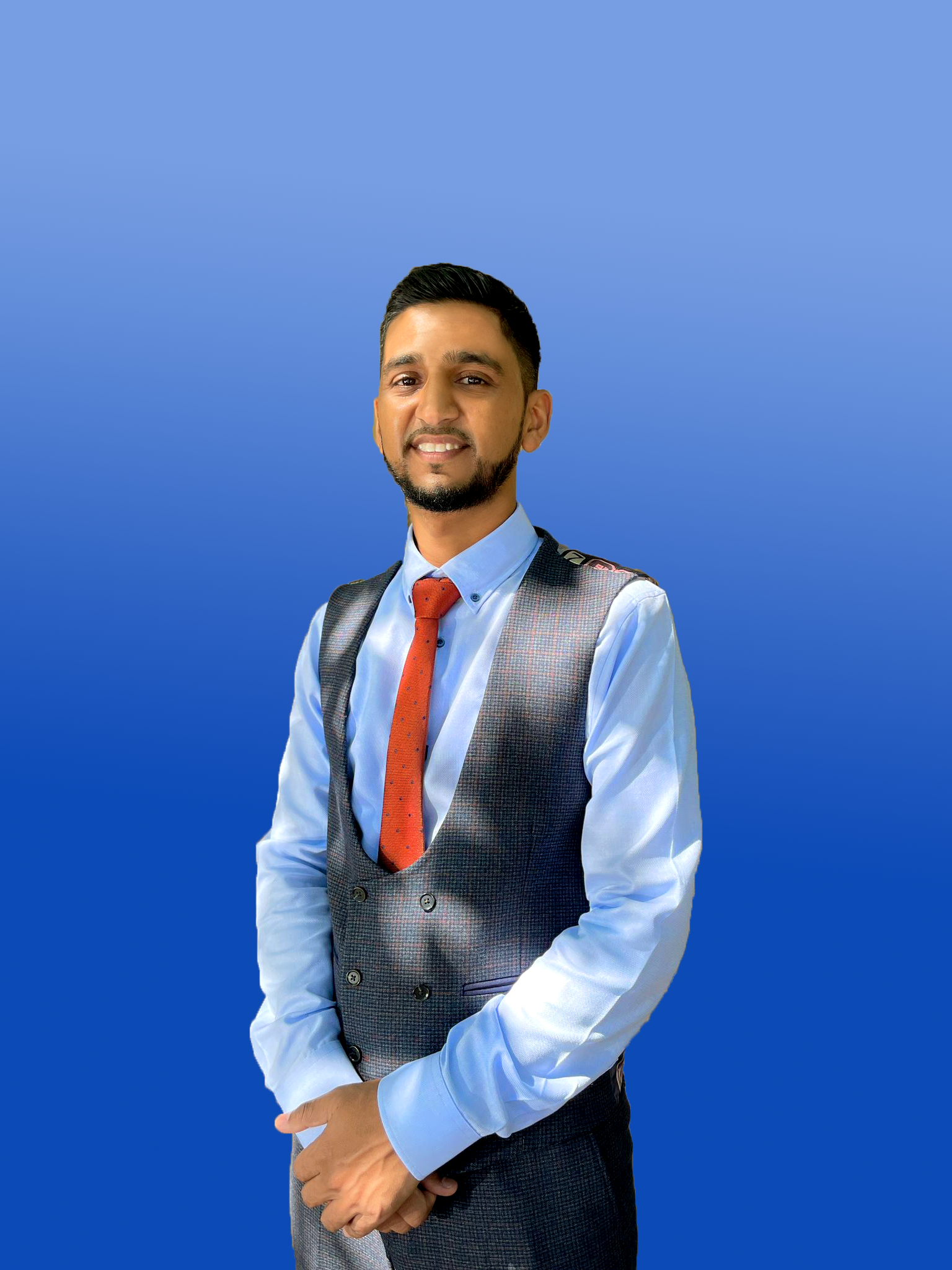 How to take a home blood test
Collecting a blood sample for your finger prick home test is straightforward. Watch the video below for more details on how to take a home blood test.
How it works
Pick your home test

We have a wide range of tests to cover your health needs. Order with next day delivery and avoid sitting in a doctor's office or clinic. Use our quiz to find the right test for you.

Take your test

Activate your test and collect your sample in the morning. Return your sample on the same day, using the prepaid shipping label provided. Samples use a simple finger prick collection method that takes around 5 minutes to complete.

Results within 48 hours

You'll get verified results and insights into what the biomarkers mean. Order now to become a healthier you!
Why Welzo
Convenient and fast
Welzo health tests are shipped straight to your address the very next day.
Secure and accurate
We are a team of doctors and scientists, making cutting edge analysis accessible.
24/7 Customer Support
We issue results 24/7, giving you personal insights into your body.
Frequently Asked Questions