Can Viagra Make Your Penis Bigger?
What's covered?
Can Viagra Make Your Penis Bigger?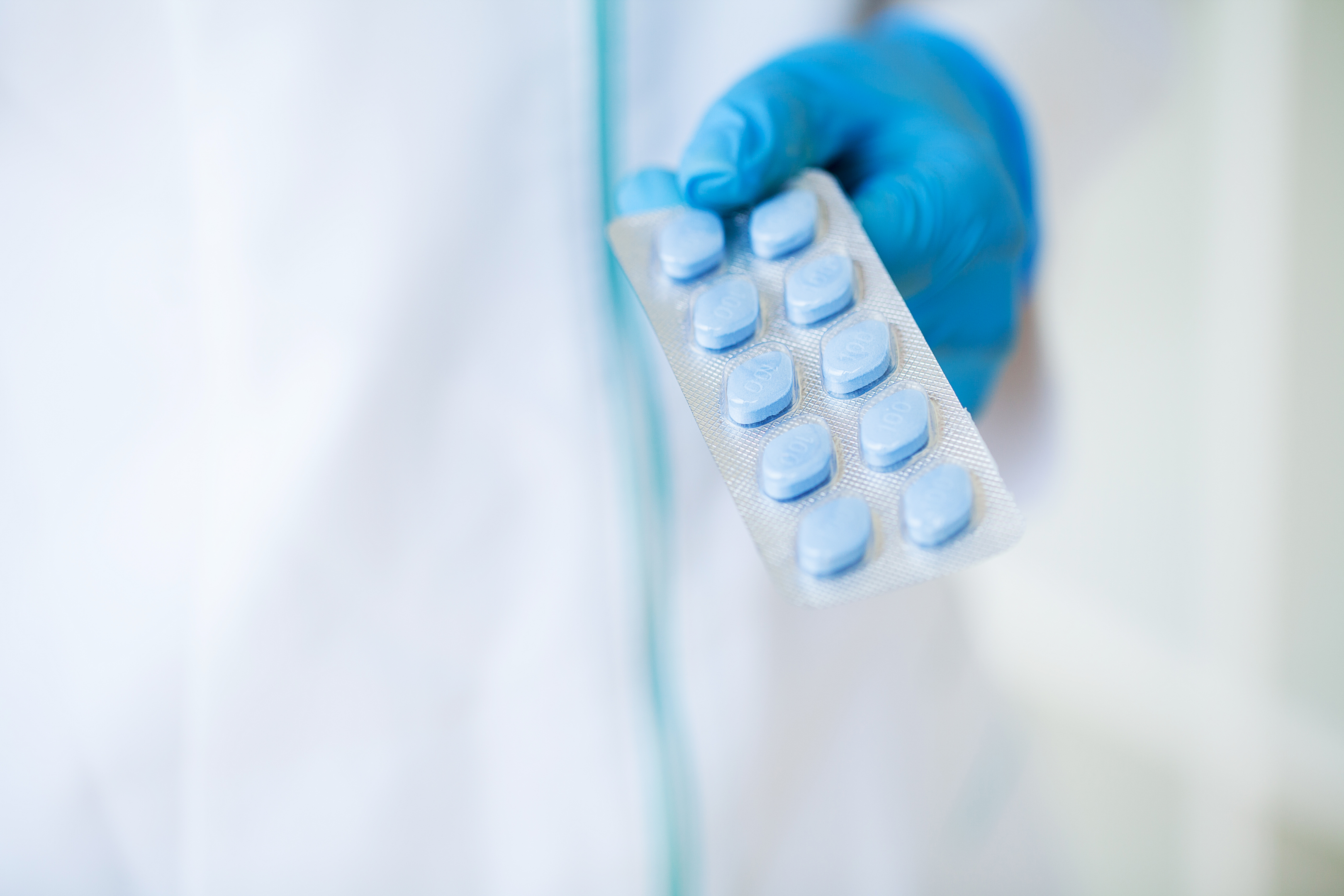 Introduction
Many men with erectile dysfunction find that taking Viagra (sildenafil citrate) can help them achieve a fuller erection. However, it is crucial to understand that this medication will not make your penis permanently bigger—nor can other over-the-counter or prescription drugs.
Does Viagra make your penis bigger?
Viagra does not make your penis bigger. Viagra is a prescription medication that helps men treat erectile dysfunction (ED) and achieve fuller erections by increasing blood flow to their penises. Viagra does not permanently increase the size of your penis, but it can give you an erect penis.
What is Viagra?
The brand name Viagra, a blue pill, is a prescription drug that treats erectile dysfunction (commonly known as ED). It's also the brand name for sildenafil citrate, a potent vasodilator. The drug was first approved by the FDA in 1998 and has since become one of the most widely prescribed drugs in history. Viagra is manufactured by Pfizer Inc., which also manufactures other popular medications like Celebrex, Lipitor and Zithromax.
Viagra is one of the powerful ED medications designed to increase blood flow to your penis when aroused—this helps produce an erection that lasts longer than usual (up to four hours), giving you more time for sex before ejaculating.
How does Viagra work?
Viagra works by improving blood flow to the penis for a firmer erection. It does this by relaxing the muscles in your penis, allowing more blood to flow in, thus preparing you for sexual stimulation. It does not increase the size of your penis permanently, but you will be sexually stimulated by it; it's only a temporary change that lasts until you stop taking it.
If you have erectile dysfunction, Viagra is often prescribed as part of a treatment plan that may include counselling, lifestyle changes and other medications (such as Cialis). However, even if you're on a treatment plan for erectile dysfunction, it's still important to talk with your doctor about potential side effects before using Viagra — just as with any medication or supplement — since everyone reacts differently to medicine, particularly for a person with a medical history.
Other erectile dysfunction treatments
In addition to Viagra, many other erectile dysfunction treatments can help you get and maintain an erection. Some of these options include medication, physical therapy, and surgery.
Medication: You may be prescribed a drug called sildenafil (Viagra) or tadalafil (Cialis) to treat your ED and allow you to have sex with your partner. These drugs increase the blood flowing within the penis, which is necessary for an erection. Sildenafil doesn't work well for men taking nitrates (i.e., nitro-glycerine).

Physical therapy: If you have diabetes or high blood pressure, talk to your doctor about starting a program of regular exercise that includes stretching exercises like yoga or tai chi. Both can help improve circulation throughout the body, including those areas needed for sexual arousal.

Surgery: In some cases, when medications don't provide enough relief from impotence symptoms, surgery may be necessary—a procedure known as penile implantation surgery (also known as phalloplasty). During this procedure, surgeons attach one or more flexible rods under the skin near where a man's penis was removed so he can achieve an erection again. However, because this type of implant isn't permanent, it must be removed after four months, so there won't be any adverse side effects. Scarring after removal surgery occurs yearly during annual doctor check-ups (usually every six months).

 
Viagra side effects and precautions
Common side effects of Viagra include:
Headache

Flushing (reddening) of the face, neck, and chest

Heartburn, indigestion, and stomach upset

There were reports of men experiencing chest pain after taking the drug
If you take Viagra and the medication prescribed to treat high blood pressure, you should consult your healthcare provider to avoid complications.
These mild side effects go away as soon as you stop taking Viagra. For most people, these will not last more than a few days. If they become bothersome or interfere with your daily activities, talk to your doctor about any potential treatment options or strategies that may help relieve the symptoms. To be sure, seek professional medical advice before taking Viagra.
Can I take Viagra after heart surgery?
When a person fully recovers from either a coronary artery bypass or an angioplasty, the American College of Cardiology states that they should be allowed to take Viagra or other PDE5 inhibitors.
If you have other medical conditions such as stomach ulcers, kidney dialysis, severe vision loss, blood cell problems, pulmonary hypertension, sickle cell anaemia, allergic reactions to sildenafil citrate, and other related conditions, considered medical advice from a healthcare provider should be your top priority. Furthermore, it would help if you told your doctor about all the medications you're currently taking to avoid a medical emergency.
Cigarette smoking
Smoking cigarettes can put you in a condition that causes erectile dysfunction by narrowing the blood vessels in the body. Viagra, on the other hand, acts by expanding the blood vessels, but Viagra's effectiveness is considered relatively low.
Viagra can help you achieve fuller erections, but it will not increase your penis length permanently
Viagra is not a magical product that can make your penis bigger. It's a drug to help you achieve fuller erections (especially for those experiencing erectile dysfunction) that may lead to better sex life. However, it won't increase the size of your penis permanently.
Viagra tablets do not cause any permanent side effects and can be used safely for many years with few adverse reactions. After all, its sole purpose is to enhance sexual performance through increased blood flow to your penis. Due to this male enhancement, you may achieve more fulfilling sexual activity.
Conclusion
As you can see, no evidence supports the idea that Viagra will permanently increase your penis size. However, using this kind of erectile dysfunction treatment can help you achieve a fuller erection and more intense orgasms when having sex with your partner. The effects of Viagra last up to four hours after taking it, so it is essential to take it at least 30 minutes before any activity that requires sexual arousal.
To learn more about Viagra, see the information product page here.
At Welzo, we offer multiple ED medications, including Viagra as well as many other ED medications including Cialis, Levitra and Spedra from our CQC-registered pharmacies.
Learn more about erectile dysfunction here and to take our private at-home ED blood test, order here.
Erectile Dysfunction Treatment and Services
Articles on Erectile Dysfunction

Get 10% off your first order
Plus get the inside scoop on our latest content and updates in our monthly newsletter.