Biaxin
An antibiotic called biaxin is used to treat a variety of infections. It is a member of the macrolide antibiotics drug class. Biaxin stops the growth of bacteria or kills them.There are tablet and suspension forms of biaxin. It needs to be consumed with food. This article's informational purpose is to better familiarize Welzo users with biaxin.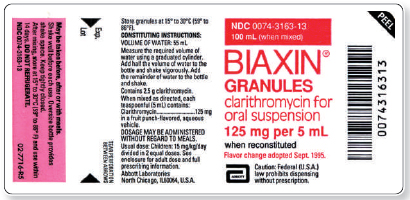 Pharmacokinetics
Biaxin is quickly absorbed when taken orally. In general, it takes 2 to 3 hours for a 250 mg dose of clarithromycin to reach its mean peak plasma concentration (Cmax), and it takes 3 to 4 hours for a 500 mg dose. After giving 250 mg of BIAXIN to healthy young adults (n=14), the mean peak plasma concentration was 1.6 0.5 mcg/mL, and after giving 500 mg of BIAXIN, it was 2.2 0.7 mcg/mL. In general, as the dose is increased, the extent of absorption decreases.

Under fasting conditions, the bioavailability of clarithromycin suspension is comparable to that of clarithromycin tablets. Peak plasma concentrations, however, were reached more quickly (1 hour) after giving fasting subjects clarithromycin suspension than they were with the tablet formulation. 1.5 0.6 mcg/mL was the mean Cmax. .
The bioavailability of BIAXIN Tablets (500 mg twice daily for 7 days; n=24) and Filmtabs (500 mg twice daily for 7 days; n=17) was comparable.

The steady-state peak plasma concentrations of clarithromycin after oral administration of multiple doses of 500 mg BIAXIN tablets twice daily ranged from 1.4 mcg/mL to 4.1 mcg/mL, and Cmax values ranged from 2.3 mcg/mL to 9.3 mcg/mL. The estimated bioavailability of a 500 mg clarithromycin tablet given while fasting in healthy volunteers ranges from 60% to 70%. In healthy young adults, food slightly slows down and reduces the amount of clarithromycin absorbed, but it has no effect on the medication's pharmacokinetics.

Within 5 to 7 days, steady-state peak plasma concentrations of 8 to 15 mcg/mL have been reached in adult patients taking BIAXIN Filmtabs or BIAXIN Tablets. Within 5 to 14 days, steady-state peak plasma concentrations of 4 to 11 mcg/mL have been reached in pediatric patients receiving BIAXIN suspension.

The tissue distribution of clarithromycin and its 14-OH metabolite is excellent. The apparent volume of distribution (V/F) in healthy volunteers after a single oral administration of 500 mg of clarithromycin as tablets is roughly 31 L/kg.

Side Effects
Adult patients taking BIAXIN Filmtabs or BIAXIN Tablets experienced taste disturbance (15%), nausea (9%), abdominal pain (7%), vomiting (7%), diarrhea (6%), and skin rash (5%) as their most frequent side effects. Diarrhea (14% of pediatric patients receiving BIAXIN suspension experienced this side effect) was the most frequent one.

Clarithromycin may have unintended side effects that call for medical attention in addition to its necessary effects.

Seriousness: Major

Consult your doctor right away if any of the following side effects occur while taking clarithromycin:

More typical

stomach or back pain that doesn't go away, agitation or anxiety
tarry, black stools

Dosage and Administration
Those who are adults 250 mg to 1000 mg twice daily of BIAXIN is the recommended dosage. Adults with pharyngitis/tonsillitis may receive doses of up to 2000 mg/day (see INDICATIONS AND USAGE). Doses greater than 1000 mg per day ought to be given in divided doses. Therapy shouldn't last longer than 14 days in total (see WARNINGS).

Overdose
Clarithromycin's oral LD50 in people is higher than 4 g/kg in adults. The symptoms of an overdose are comparable to those of other macrolides. They consist of nausea, vomiting, digestive issues, and lightheadedness. Diarrhea, hypotension, seizures, tachycardia, and arrhythmias may happen in extreme cases. QT prolongation and other ECG changes could also be seen. Clarithromycin overdoses do not have a specific antidote, so symptomatic and supportive care should be provided.

Storage
Store at 25 °C (77 °F); excursions are allowed to 15 °C (59 °F) and 30 °C (86 °F). Please refer to USP Controlled Room Temperature. shield from moisture and light. Use a tight container for dispensing.