Micardis HCT
An angiotensin II receptor blocker (ARB) and a diuretic (water pill) are combined in Micardis HCT. It functions by preventing the tightening of blood vessels caused by some natural substances, allowing blood to flow more freely and the heart to pump more effectively. Users of Welzo can use this article for informational purposes to better understand Micardis HCT.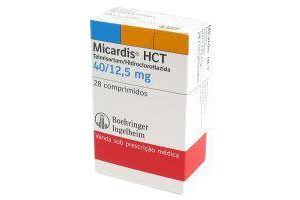 Health Benefits
Micardis HCT can be used to treat high blood pressure (hypertension) and lower a person's risk of having a heart attack, stroke, or passing away.Additionally, it can help those who have had a heart attack live longer.
Side Effects
Headache, fatigue, and vertigo are three of Micardis HCT's most frequent side effects.Additional adverse effects include rash, diarrhea, constipation, and stomach pain.
Contact your doctor or a healthcare provider right away if you experience any severe side effects, including those that are not listed here.
Dosage and Administration
Tablets of Micardis HCT are available.40/12.5 mg once daily is the typical starting dose.If more is needed, your doctor may increase your dose.It is best to take Micardis HCT with food and not to crush or chew it.
Interactions
Other medications, such as ACE inhibitors, diuretics, and potassium-sparing diuretics, can interact with micardis HCT.Before beginning Micardis HCT, inform your doctor of all the medications you are currently taking.
Mechanism of Action
By inhibiting the activity of specific naturally occurring substances that tighten blood vessels, Micardis HCT promotes smoother blood flow and more effective heart pumping.
Pharmacokinetics
The gastrointestinal tract quickly and completely absorbs micardis HCT. It is broken down in the liver and eliminated through the urine.

Half-Life

Micardis HCT has a 24 hour half-life.