Temovate
A topical corticosteroid is temovate. Clobetasol propionate, a synthetic corticosteroid, is the substance that makes Temovate work. Corticosteroids are hormones that the adrenal glands naturally produce. In addition to reducing inflammation (swelling and redness), suppressing the immune system, and raising blood sugar levels, corticosteroids have a variety of other effects on the body. Eczema, psoriasis, and dermatitis are inflammatory skin conditions that are treated with clobetasol propionate. It functions by reducing skin swelling and inflammation. Users of Welzo can use this article for informational purposes to better understand Temovate.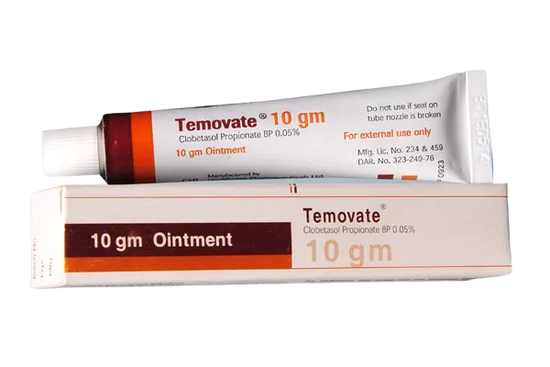 Health Benefits
Eczema, psoriasis, and dermatitis are just a few of the inflammatory skin conditions that can be treated with temovacate. Temovate's active ingredient, clobetasol propionate, is a potent anti-inflammatory that can aid in reducing skin swelling and redness. Additionally, it lowers immune response, which is advantageous for those with inflammatory skin conditions. Temovate can also raise blood sugar levels, which is advantageous for those who have diabetes.

Side Effects
Temovate might have negative effects. Skin irritation is the most typical adverse reaction. Additional negative effects include:

-burning

-stinging

-itching

-redness

-swelling

-dryness

-peeling

-crusting

-rash

Contact your doctor if you experience any of these side effects. Temovate can occasionally result in more severe side effects, such as:

-blistering

-oozing

-infection

-hives

breathing or swallowing issues

-profound itching

-face, throat, or tongue swelling

You should get medical help right away if you encounter any of these side effects.

Temovate is a strong topical corticosteroid that must only be used according to your doctor's instructions. Temovate must be used exactly as prescribed. Use it as directed; do not alter the dosage or frequency of use.
Dosage and Administration
Temovate is offered as a cream, an ointment, and a solution. The affected area receives it typically twice or three times per day. The instructions on your prescription label should be carefully followed. Temovate should not be used more frequently than advised.

Applying a thin layer of Temovate cream to the affected area and gently massaging it in is recommended if you're using it. Applying a small amount of Temovate ointment to the affected area and gently massaging it in is recommended. If you're using Temovate solution, dab a little bit of the solution with a cotton swab on the affected area and let it dry.

Interactions
Temovate and other drugs may interact. Inform your doctor about all medications, both prescription and over-the-counter, especially:

-other topical corticosteroids like methylprednisolone aceponate (Advantan), triamcinolone acetonide (Aristocort), desonide (DesOwen), fluocinonide (Lidex), clobetasol propionate (Cordran), hydrocortisone butyrate (Locoid), and hydrocortisone valerate (Westcort).

The list of medication interactions for Temovate is not exhaustive. For more information, consult your physician or pharmacist.

If you are allergic to clobetasol propionate or any other component of Temovate, avoid using it.

Tell your doctor about all of your medical conditions before taking Temovate, especially if you have:

infection of the skin

-rosacea

-acne

– ulcerative colitis

-psoriasis

-a history of viral infections like chickenpox or herpes simplex

-Any other health issues

Inform your physician of all the medications you take.


Mechanism of Action
Temovate is a member of the topical corticosteroid drug class.It functions by calming the immune system and reducing inflammation.
Pharmacokinetics
Temovate enters the bloodstream after being absorbed through the skin.The liver then metabolizes it, and the urine is produced as a result.Temovate has a half-life of approximately 3 hours.