Abacavir sulfate
HIV, a virus that can lead to acquired immunodeficiency syndrome (AIDS), is treated with abacavir sulfate. HIV and AIDS cannot be cured with abacavir sulfate.There are additional uses for abacavir sulfate besides those that are covered in this medication guide. This article serves as information for Welzo users to better understand abacavir sulfate.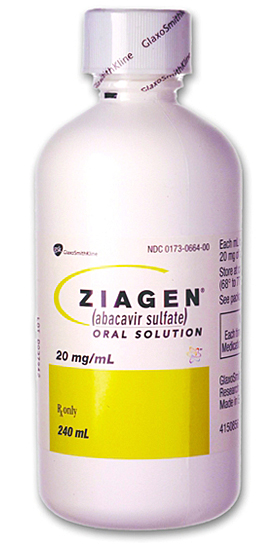 Pharmacokinetics
Abacavir's pharmacokinetics have been studied in HIV-positive adults and children aged 6 and older. Maximum abacavir concentrations (Cmax) occurred 3 hours after oral administration of abacavir sulfate 600 mg once daily to fasting adults (Tmax). The mean (%CV) apparent steady-state plasma clearance was 10.4 L/hr/kg, and the apparent steady-state volume of distribution was 12.6 L/kg (37%) on average.

The pharmacokinetic parameters of abacavir after administration of a single dose of abacavir sulfate 300 mg were generally similar to those seen in adults in a study of 14 HIV-infected children between the ages of 6 and 12 years (including 3 who received abacavir sulfate 300 mg twice daily).

In a different study, AUC values in 23 HIV-positive adolescents aged 13 to 18 years (including 8 who received abacavir sulfate 600 mg once daily) were comparable to those in adults. However, compared to adults, adolescents had a higher mean%CV for apparent plasma clearance (54% vs. 38%).

According to in vitro research, cytochrome P450 3A (CYP3A) isoenzymes play a major role in the metabolism of abacavir. Abacavir is a substrate for p-glycoprotein (P-gp), according to in vitro data.

Since abacavir is not removed by hemodialysis, there is no need to adjust the dose in patients with end-stage renal disease. Abacavir is primarily eliminated through renal excretion as unchanged.



Drug interactions
P-glycoprotein (P-gp), a drug transporter, is a substrate for the drug abbacavir sulfate. Abacavir's plasma concentration may rise as a result of P-gp inhibitor medications, which may also exacerbate or prolong negative side effects.

It is not advised to combine didanosine and abacavir sulfate. According to data from a clinical trial, taking didanosine 250 mg once daily and abacavir sulfate 600 mg once daily together leads to higher didanosine exposure than taking either nucleoside reverse transcriptase inhibitor (NRTI) by itself. Didanosine AUC and Cmax in this study roughly doubled when these NRTIs were coadministered. When abacavir and didanosine were taken together, the maximum didanosine exposure was noticed around 8 hours after the dose.

The risk of hypersensitivity reactions is increased when zidovudine or stavudine are combined with abacavir sulfate.

Side effects
Headache, fatigue, and nausea are among abacavir sulfate's most frequent side effects. A hypersensitivity reaction is a serious condition that can also be brought on by abacavir sulfate. Fever, rash, and body aches are signs of an allergic reaction. If this condition is not treated right away, it could be fatal. If you have an allergy to abacavir sulfate or any other component of the medication, you should not take it. Inform your physician of all other allergies you may have before taking abacavir sulfate. If you are pregnant or intend to become pregnant, let your doctor know. Because it can enter breast milk, abacavir sulfate poses a risk to nursing infants. If you are nursing a child, do not take this medication without first telling your doctor.
To safely take abacavir sulfate, you might require a dose adjustment or additional tests if you have any of the following conditions:

kidney illness
liver illness
if you have a history of pancreatitis, heart disease, or if you take any prescription or over-the-counter medications, herbal supplements, or dietary supplements

Dosage and Administration
Abacavir sulfate should be taken once a day in doses of 600 mg (two 300 mg tablets). You can take abacavir sulfate with or without food.

Abacavir sulfate should be taken as soon as you remember a dose. Skip the missed dose and resume your regular dosing schedule if your next dose is almost due. Never combine two doses at once.

Overdose
If you believe you have taken too much of this medication, go to the emergency room or call a poison control center right away.

Storage
Store abacavir sulfate between 68 and 77 degrees Fahrenheit (20 and 25 degrees Celsius) at room temperature. Keep out of the sun, moisture, and heat. Keep out of the bathroom. Abacavir sulfate should not be given to children or animals.