Advicor
A prescription drug called Advicor is used to treat adults with high cholesterol. Niacin and lovastatin are the two medications included in Advicor.Vitamin B3 is another name for niacin. Mevacor® is another name for lovastatin.Your triglycerides (blood fat) and low-density lipoprotein (LDL) cholesterol (the "bad" cholesterol) may both decrease with the use of advice, while your HDL cholesterol (the "good" cholesterol) may increase.Advicor may aid in the prevention of certain types of heart surgery, heart attacks, and other cardiovascular diseases.Before you start taking Advicor and throughout treatment, your doctor should order blood tests to evaluate your liver's health.If you have liver issues, are pregnant, or are nursing, you should not take Advicor.Welzo users can use this article for informational purposes to better understand Advicor.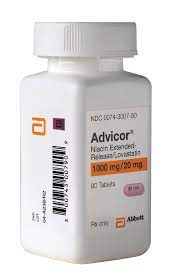 Health Benefits
Advicor has been demonstrated to reduce triglycerides by up to 25%, raise HDL cholesterol by up to 8%, and lower LDL cholesterol by up to 37%. People with various baseline cholesterol and triglyceride levels have experienced these effects.

In one study, those who took Advicor for two years had a 27% lower risk of suffering a heart attack or passing away from the condition than those who took a sugar pill known as a placebo.
Side Effects
Advicor's most frequent side effects include:

feeling warm or flushed

itching

rash

headache

dizziness

abdominal pain

nausea

diarrhea

If you experience any side effect that bothers you or does not go away, let your doctor know.
Interactions
If you take any other medications, vitamins, or herbs, Advicor may interact with them. When a substance modifies how a drug functions, there is an interaction. This could be harmful or stop the medication from working properly.

Your doctor needs to carefully monitor all of your medications to help you avoid interactions. Tell your doctor about all of the drugs, vitamins, and herbal remedies you are taking. Speak with your doctor or pharmacist to learn how this medication may interact with other medications you are taking.

The following is a list of drugs that may interact with Advicor.

Alcohol

(Dilantin®, Phenytek®) phenytoin

(Rifadin®, Rifamate®, Rimactane®) rifampin

The list of drug interactions for Advicor is not exhaustive. For more information, consult your physician or pharmacist.

Dosage
A tablet with an extended release is available for Advicor. Usually, it is taken once per day, with or without food.

One 2,000 mg tablet of Advicor taken once a day is the typical starting dose when treating high cholesterol with it. Depending on how you react to the medication and your cholesterol levels, your doctor may change your dose. The maximum daily dose advised is 4,000 mg.

Advicor should be taken as soon as you remember if you miss a dose. Skip the missed dose if it's almost time for your next one and take your next dose as scheduled. Never take two Advicor doses at the same time.

Mechanism of Action
It is unknown how Advicor functions exactly. It is believed to operate by:

preventing a liver enzyme required for cholesterol synthesis

LDL cholesterol removal from the blood is aided by increasing the number of LDL receptors on the surface of liver cells.

lowering the liver's production of triglycerides

An increase in HDL cholesterol

Pharmacokinetics
Advicor is a niacin and lovastatin formulation with an extended release. Niacin is immediately released, whereas lovastatin is released gradually over time.

The gastrointestinal tract quickly absorbs niacin, which is then widely distributed throughout the body. It is broken down in the liver and eliminated through the urine.

Lovastatin absorbs slowly from the digestive system and goes through a significant first-pass metabolism in the liver. It is eliminated in feces.

Niacin has a half-life of 30 to 60 minutes, while lovastatin has a half-life of 1 to 2 hours.