Cabenuva
The Cabenuva injection kit contains cabotegravir and rilpivirine is separate single-dose vials. Cabotegravir and rilpivirine are antiviral medicines that prevent human immunodeficiency virus (HIV) from multiplying in your body. HIV is the virus that can cause acquired immunodeficiency syndrome (AIDS).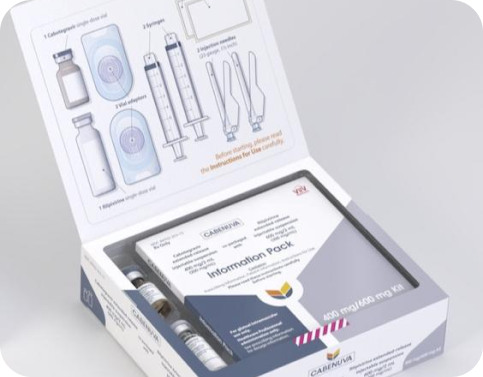 Talk about your brand
Share information about your brand with your customers. Describe a product, make announcements, or welcome customers to your store.
How should I use the Cabenuva injection kit?
Use the Cabenuva injection kit exactly as prescribed by your doctor. Follow all directions on your prescription label. At least 28 days before your first injection, you will take cabotegravir and rilpivirine in tablet forms once per day with a meal. This "lead-in dose" will help determine that you can safely use these medicines together.
Cabenuva side effects
Get emergency medical help if you have signs of an allergic reaction to Cabenuva: hives; fever, tiredness, body aches, not feeling well; sores or blisters in your mouth; red or puffy eyes; difficult breathing; swelling of your face, lips, tongue, or throat.