Trazodone
A drug called trazodone is used to treat depression. It belongs to the group of drugs known as serotonin reuptake inhibitors (SSRIs), which function by raising serotonin levels in the brain. Trazodone is offered as an injectable solution, an oral tablet, and an oral extended-release tablet. This article is written to provide information about trazodone to Welzo users.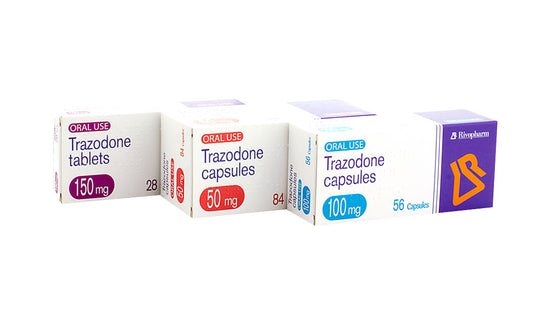 Side Effects:
Trazodone's most frequent side effects are drowsiness, headaches, dry mouth, and dizziness. Additionally, trazodone has the rare but potentially fatal side effect of QT prolongation.

Medicine interactions:
Tricyclic antidepressants, SSRIs, and MAOIs are a few examples of medications that may interact with trazadone. Grapefruit juice or alcohol should not be consumed while taking trazodone.

Getting pregnant and nursing:
Trazodone is a category C pregnancy drug, meaning it could harm a fetus in the process of development. When used during pregnancy, trazodone should only be used if the benefits outweigh the risks. Trazodone has not been found to harm nursing infants.

Dosages:
Trazodone has a 150 mg daily starting dose recommendation for depression. You can take trazodone with or without food.

Warnings:
Low blood pressure from trazodone may result in fainting. Trazodone has the potential to also cause QT prolongation, which can result in abnormal heart rhythms and even life-threatening conditions. Patients with heart disease or other conditions that put them at risk for QT prolongation should use trazodone cautiously. Additionally, people with kidney or liver disease should use trazodone with caution.