11 Ways You May Be Damaging Your Hair
What's covered?
11 Ways You May Be Damaging Your Hair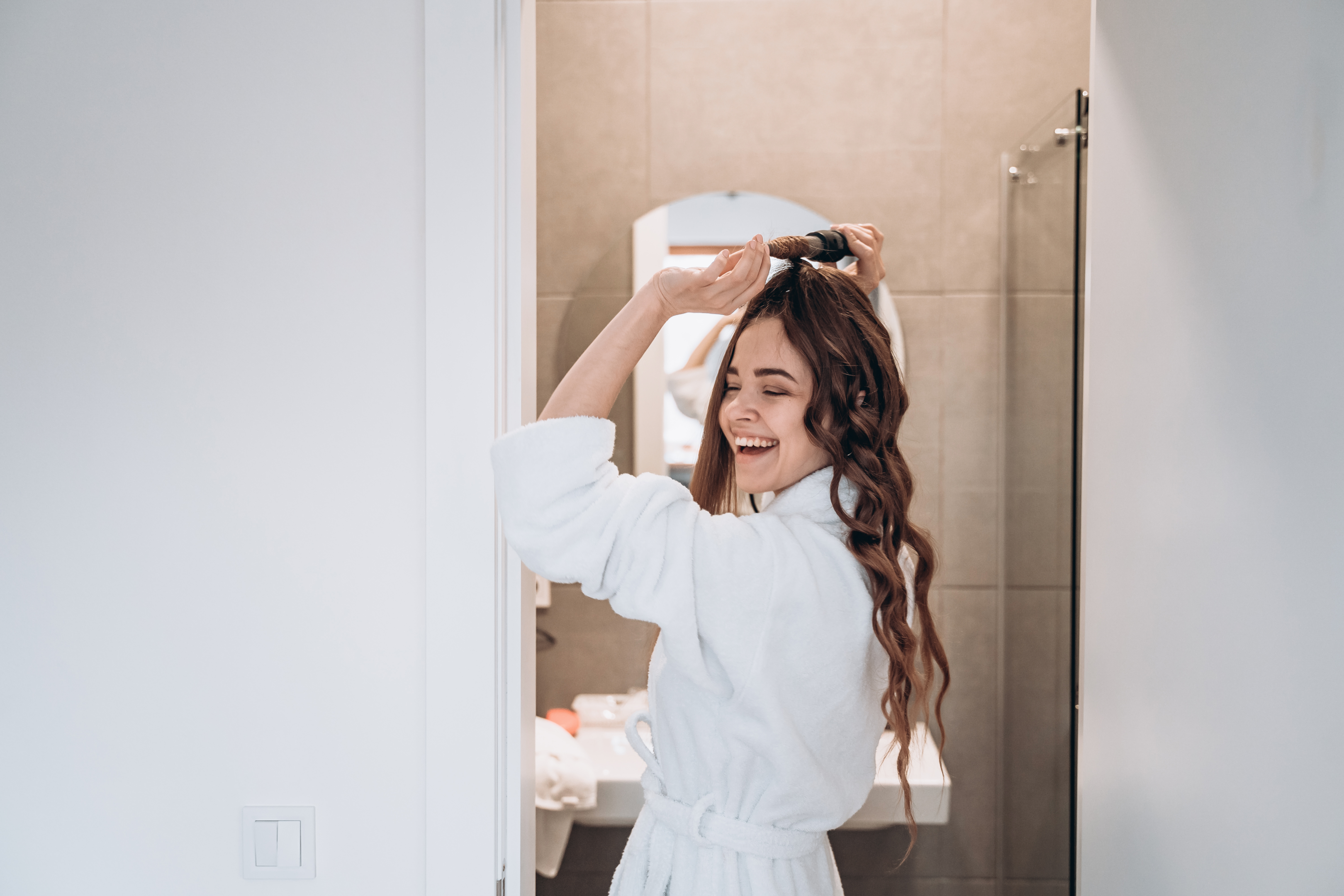 There are various reasons for damaged hair. It can be due to heat and lack of moisture, hair products containing chemicals, over-washing, over-treatment, and other underlying conditions like diet, stress, and more. Aside from these, another reason can also be how you style your hair.
Those sleek ponytails, messy buns, and tight braids that you do when rushing out of the house for quick errands can cause damage to your hair without you even noticing.
Yes, those hairstyles are the bomb. They make you look clean and well-polished with just a few minutes of styling and without breaking a sweat. They are timesavers and require little effort. But constantly sporting these hairstyles, especially if you're not using the right haircare products, can cause severe hair damage.
No worries, there's a way to solve this. It turns out that the key to keeping your gorgeous and luscious hair is to not go overboard with the hairstyles and give your hair a well-deserved rest day. Allow your hair to recover and everything in moderation. Here are 11 different hairstyles that can damage your hair and tips on how you can lessen their undesirable effects.
Ponytails
Popular among those who are always on the go, ponytails can make you look clean and polished with a few simple steps, giving that effortless look in just a few seconds. There's no doubt why many people sport this style every single day.
Although ponytails offer a quick and easy hairdo, this may not do your hair any good. Experts explained how your everyday ponytail could cause severe hair damage, especially if you place it in the same spot on your head.
When you wear the same ponytail on the same spot daily, you repeatedly add stress to that part. This creates regular tension that will eventually cause your hair to snap, breaking off at the base of the pony.
Suppose it's an absolute necessity for you to wear your pony daily. In that case, you can still make it work without worrying about your hair breaking off. Consider placing your pony in another spot of your hair and change your rubbery elastic bands to thick and fabric-coated hair ties. These can hold your pony in place while being gentler on your hair.
High buns and top knots
Similar to ponytails, buns and top knots are the usual easy fix to unwashed and messy hair. These are one of the go-to hairdos for every bad hair day. The thing is, your hair is pulled so tight in the same crown section of your hair that it leads to stress and breakage. This is primarily a bigger issue for those with finer hair.
You can lessen the damage of high buns and top knots by lowering them. Avoid putting your hair on top of your head and pulling it too much. Opt for loose buns and knots if you can't avoid wearing these styles. Using soft scrunchies or fewer pins over stretched hair ties is also helpful.
Tight braids
Braids are the oldest among other hairstyles, dating back to 3500 BC. This hairstyle goes way back, and it is clear that it maintained a historical legacy that is here to stay. So, no one expects braids to be banished entirely from the archives of hairstyles because they can be bad for you. Instead, you need to learn how to loosen them up—literally.
Waterfall, tight, and reverse braids are some of the varieties of braids that anyone can wear. The key to perfecting these styles is tightly holding your hair with elastic ties.
Despite their stunning and sensational looks, these hairdos are highly damaging. The stress they can cause on the follicle, or the tiny holes in the skin that hairs grow from, can weaken it and even cause hair loss.
Still, don't lose hope yet. You can sport braids by taking breaks between wearing them and being delicate on your strands by moisturising your scalp with essential oils before, during, and after styling your hair. It's best to consider wearing your braids not too tight at the scalp for lesser damage, too.
Teased tresses
Teased tresses were big in the early 2000s, and like any other trends that come and go, this style is trendy again. You can wear this style by teasing or backcombing to create a lift, volumizing your hair.
Although they make your hair big and poofy, this hairstyle can harm your strands. With teasing, you're doing your hair a disservice because it tangles your strands near the roots, creating knots and breakage. This is primarily a harsh style for those with thin, ageing hair.
Rather than sporting this style for a quick lift, use volumizing products. Your hair will be thankful for it.
Wet hairdos
Brushing your hair when wet without using the right brush and products is already a mortal sin. What more when you style it? It is a sure-fire recipe for damage.
You may be styling your wet hair because you're running late, and you want to lessen how much time you spend with your hot tools (which are also not good), but this is not the way to go. When wet, your hair is in its weakest state because it's less elastic, which can make it snap and break easier.
To further prove this point, try looking at your elastic hair ties the next time you remove them after a wet updo. You'll see strands of your hair wrapped around it.
Sporting buns and ponytails with dry hair can cause severe damage, and doing it with wet hair is worse. If you tie your damp hair or braid it tightly, the tension increases as it dries. While wet updos look cute, the risk of hair loss is not worth it. Try shine spray instead to achieve this glossy shine updo look next time.
To prevent further hair damage, consider drying your hair with a microfiber towel and letting it air-dry completely before you style it. You can also hit your hair with low heat for a few minutes to help take out at least most of the moisture, but make sure to spray heat protectant first.
Straight hair
Achieving sleek, straight, smooth, and flawless hair comes with a price. The constant straightening can cause stress, breaking the bonds. If you've been using flat irons for quite a while now, it has likely caused hair breakage, even if you've used heat protectants.
If you can't go a day without straightening your hair, there is another way you can achieve this without using hot tools. Wrap your damp hair around your head flat. Secure it with either a scarf or bobby pins. Once dry, it should be pretty straight after you unfurl it.
Although wrapping your damp hair is an alternative to straightening your hair, do this in moderation. Wrapping hair can lead to thinning and damage if done incorrectly or too often. When bobby-pinning your wet hair, you're at risk of hair loss. Again, hair, when wet, is at its weakest, and using bobby pins can create split ends and immediate breakage.
Haircare products with amino acids or keratin treatments can help lessen the damage to your hair due to constant flat-ironing. You can also try hair steaming using steam-infused flat irons. Not only do they leave your hair smooth and shiny, but they also seal the moisture into your hair.
Hair extensions
If you love wearing hair extensions but fail to take care of them, you're in for a serious offence.
If improperly installed, hair extensions—whether hand-tied, sewn-in, or taped-in—build tension on various points of your head. These can also leave your hair feeling weak. The worst thing that can happen is to end up with traction alopecia caused by repeatedly pulling on your hair.
If you're planning to wear hair extensions for special occasions like weddings, birthdays, or galas, make sure you seek professional help for the application. And for days when you feel like wearing one, you can opt for the semi-permanent clip-in hair extensions that you can wear at home.
Clip-in hair extensions are less damaging; the fewer clips you put, the better in reducing any damage. Try clipping in the hair in different spots each time and remove them at the end of the day to keep your hair feeling its best.
Colour-treated hair
Fancy hair colours are fun. It can boost your mood and be a part of your branding or how you present yourself. Still, dyeing your hair can cause more trouble than it is worth. Because hair dyes have chemical substances, they can damage your hair, making it fragile and prone to breakage.
To reduce damage, picking a colour close to your natural tone is advisable. Opt for richer colours that will add fullness to your hair, especially if it is thin and aging. Avoid lighter shades because they take away colour and are more damaging and drying to your delicate locks.
Colouring your hair with pigmented tones can help nourish your hair and deposit colour. Finish it with toning or deep conditioning treatments to bring some life back.
Long locks
Long locks are here to stay, even with their poor effect on your hair's texture.
As you may know, your hair gets thinner as you age, and thinner hair is prone to more tangles. By keeping your hair too long, you're asking for those tangles. Because of its weight, your hair is at risk of parting lines becoming permanent.
Try short haircuts with layers like a pixie cut. This style has layers that can help hide hair loss. But if you refuse to turn to this hairstyle or don't want to cause damage to your hair, this is the right time for regular trims. You can do this by yourself, with a friend's help, or by going to a professional every 8 to 12 weeks to keep your ends fresh and healthy.
High-tension hairstyles while sleeping
The key to reducing hair damage is by wearing easy protective hairstyles. And wearing your hair tied back tightly while you sleep is not considered an easy protective hairstyle.
Avoid putting your hair in a tight bun or braid while sleeping, as they create tension. Because your hair is already pulled so tight, it's easier for it to break. When you roll around in your sleep while your hair is in a bun, you create tangles and tugs on your hairline.
Instead, try putting your hair in a loose hairstyle, like a loose braid, or putting on a silk bonnet. Silk bonnets keep your hair contained without damaging it. It would help if you also considered changing to satin or silk pillowcases. Their slippery material allows your hair to glide over your pillow, helping you avoid unnecessary friction.
Hats, headbands, and other headgear
Aside from the hairstyles mentioned above, experts warn about the potential scalp friction caused by wearing hats, headbands, and other headgear too often. Alternatively, they advise wearing those hair accessories in moderation.
Constantly wearing hats can cause damage. But there are also incredible benefits to wearing them. Hats, scarves, and other hair pieces covering your scalp can protect your follicles and face from UV damage caused by the sun. They are also a must during summer.
Everything in Moderation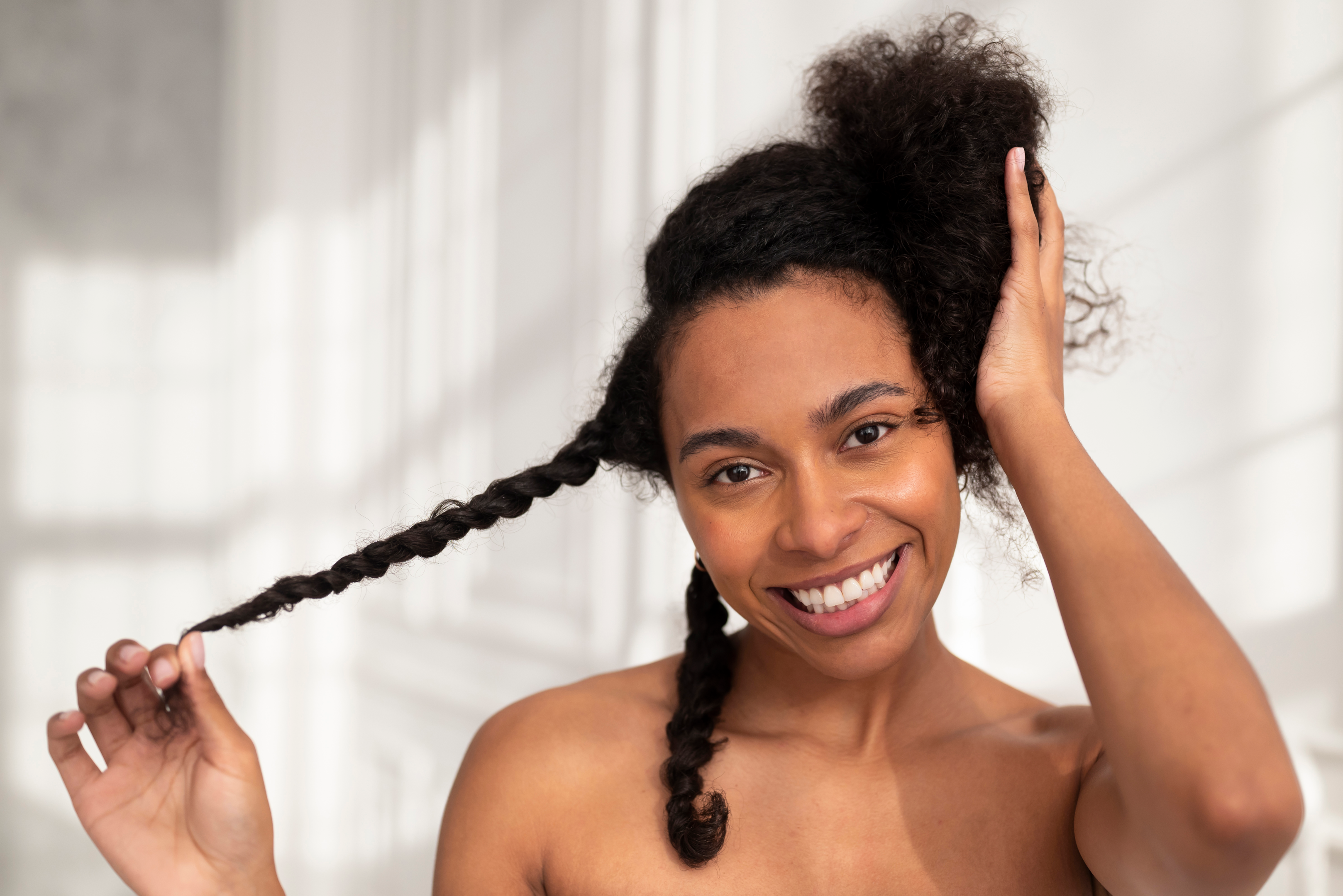 Sporting the same hairstyle daily can cause damage. Too-tight buns, braids, and ponies may help you to look clean, posh, and sophisticated, but the risk that comes with them is not worth it.
As mentioned, everything should be in moderation. You'll be good if you keep your hairstyling to a minimum. And if you think your hair can use a break, go au naturel. It's best to keep it natural, especially after long days of hairstyling, to maintain your healthy hair and enjoy its lustre.
Similarly, you can invest in various haircare products with the right vitamins and nutrients to improve your overall hair and scalp health from roots to tips. Regardless of your hairstyle, having shiny and healthy hair will always be golden.
To learn more about hair, view our hair loss page here!

Get 10% off your first order
Plus get the inside scoop on our latest content and updates in our monthly newsletter.