What Is The Liquid In Covid Lateral Flow Test?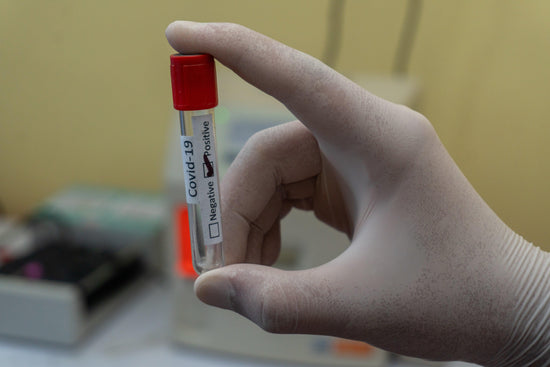 What's covered?
Here's what you need to know about the Lateral Flow Test.
First and foremost, you should be aware that various countries use different names regarding lateral flow tests. The reason for this is that long before the emergence of Coronavirus, commonly known as COVID-19, the lateral flow test was already in existence.
You might get confused when you hear the following names:
Quick test

Rapid test

Dipstick

Lateral flow immunoassay or LFIA

Lateral flow device or LFD

And many other names
The vital thing you should remember is the efficacy of the lateral flow test at detecting COVID-19.  If you are more interested in an overview of COVID-19, then read our comprehensive guide written by Dr. Williams, which includes symptoms, causes and testing for COVID-19. 
What the recent study shows about lateral flow tests
According to a recent study conducted by researchers, they found out that lateral flow tests have almost the same level of accuracy as PCR tests. However, a lateral flow test should be used immediately after detecting any symptoms of COVID-19.
Another significant thing to consider about a lateral flow test is that it is more inexpensive to compare the price to a PCR test. Moreover, you can see the immediate result within 30 minutes, which only means it is much faster than a regular PCR test.
How does a lateral flow test work in diagnosing any COVID-19 infection?
If we remember, during our early Science days in school, our teachers taught us the basics of chromatography, which is composed of a jar of water, a piece of paper, and a water-soluble felt pen. Lateral flow tests work as much as the same with chromatography.
Two types of lateral flow tests use in determining a possible infection
First is the so-called antigen detection. These tests show if a person is infected right now. Various disease samples are needed depending on the pattern of symptoms and the contagion being looked for. Depending on the outcomes, judgments about how to handle and care for the patient can be decided to make right away.
Buy an antigen or antibody test today and find out if you have been infected with Omicron.
The second is antibody detection. Most of the time, these tests show the possible exposure of a person to a disease in the past. When a health professional conducting the test notices an indication of antibodies in the clinical sample, they would conclude that you've been exposed to the infection before, or worse, your body still has a particular infection. In this situation, an antibody lateral flow test is required.
Benefits of a lateral flow test
The first advantage of a lateral flow test is that it is straightforward to use and coupled with simple steps.

A lateral flow test can be efficiently conducted even without laboratory equipment.

Using urine, nasal swab, or finger-prick blood is easy to access.

Within the span of 10 to 30 minutes, you can easily see the result.

Lateral flow tests are cheaper than other testing procedures, and you can even store them at room temperature.
Final words
Lateral flow tests appear to be here to remain as we slowly emerge from the COVID-19 outbreak. Medical practitioners, politicians, and the general public recognise the usefulness and advantages of lateral flow tests. They are helping to bring about much-needed transformation in diagnosing infections.
To find out more about Covid-19, Welzo also offers a Covid-19 Antibody Test, measuring antibody levels over time.

Get 10% off your first order
Plus get the inside scoop on our latest content and updates in our monthly newsletter.